I would like to start off by saying thank you for taking the time to read my first blog. It is an homage to my parents and I couldn't help but give Bryan Adams props too. Let me explain. It was actually the summer of '68 when my newlywed folks jumped feet first into business. They bought a place called Larry's Stand (pictured above). The Stand is long gone but its' memory still lives in the hearts of many just like a great song. That brings me to Bryan Adams and his Cuts Like a Knife album. His Summer of 69 song is just one of those anthems that brings people spirits up just like Larry's Stand did. I just had to tie them together. He also happened to be my first crush and concert with friends. And the last time I looked, his lips had not re-appeared on my album cover but I digress.
Candies, Pepsi's and everything nice.
My earliest recollections of business and how to run one with consistency, craftsmanship and in service to others comes from Larry's. I could not understand conceptually at the time what my folks were building as I was only 4 years old however, the 'feeling' of candies, pepsi's and everything nice still impacts me today and is part of my why. Why I am passionate about business, leadership, systems and processes, strategic planning, marketing, culture, music and, most of all, the commitment to allowing people to feel seen, heard and understood. What I have come to understand is that the magic of Larry's stemmed from those virtues and why people kept coming back time and time again, season after season.
When I asked my dad why he and my mom decided to go into business for themselves, it was a very clear answer. He was motivated to create a better life financially than his upbringing could afford. Thanks to their efforts, I grew up with running water and proper footwear; my dad can't say the same. So they went for it and just like B.T.O., around the same time, they started Takin' Care of Business for themselves.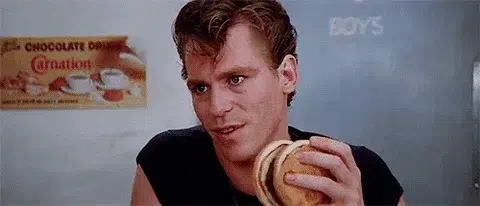 Grade 4 page 2 education meets school of hard knocks
Owning a business with, as my dad recalls "grade 4, page 2" education, had its struggles for sure. But their 'why' drove them to be willing to find their way to a better life for themselves and then for little ol' me that came along in the 70's. The 'why' made them focus on creating a culture of serving the h*ll out of people so they never had to worry about a paycheque. They intuitively knew recurring income would be the bi-product of people understanding that by heading to Larry's you were going not only going for delicious burger fare; you were going for the exceptional client experience.
Just like Norm on Cheers, everybody knew your name
It was a place where everyone would know you by name, remember your order and have it on the grill before you ever spoke a word; your business meant something. Overflowing baskets of homemade fries and the freshest, seasoned to perfection burgers, dogs and shrimp satisfied the taste buds of rows upon rows of mouth-watering customers. Consistency and perfectly executed food was synonymous with Larry's along with the concerted effort to listen and acknowledge their clientele for choosing their Stand to patron. That was one of the keys to building the relational vs. transactional culture that garnered their loyal following. It all mattered. YOU mattered.
The why that fuels your will to look for the way
This first blog is not only to pay tribute to my folks but to also provoke thought in business owners, leaders and parents. The next generation is watching. My hope is that my sharing inspires you to look within and get curious about who you are, why you do the things you do and how it makes this world we live in a better place. It starts with each of us; even one with grade 4, page 2 education. What if:
You are five years in the future looking back. What are you most proud of?
Your kids and/or coworkers are talking about you. You happen to walk by and hear the conversation. What positive impact do they mention you making in their lives?
What legacy do you want to leave? How do you want to remember you?
Gratitude, Peace and Love Wrapped Up In Transistor Radio Sound
It needs to be said that my four year old self's thoughts about Larry's were truly magical. I was a kid hanging out with her folks while listening to transistor radio sound and had every type of candy at her disposal -if that isn't magic, I don't know what is! As years have passed, what I have come to realize is that the entrepreneurial road they cut and paved with courage, humbleness, tenacity, servitude, creativity and fun was one that put a roof over our heads with running water, new shoes and clothes for school each year. I am incredibly thankful for the opportunities their tenacious work ethic afforded our family. I have never taken those business and life lessons for granted. Thanks mom and dad for everything. Peace and love always. xo